Getting
Accurate Answers Sooner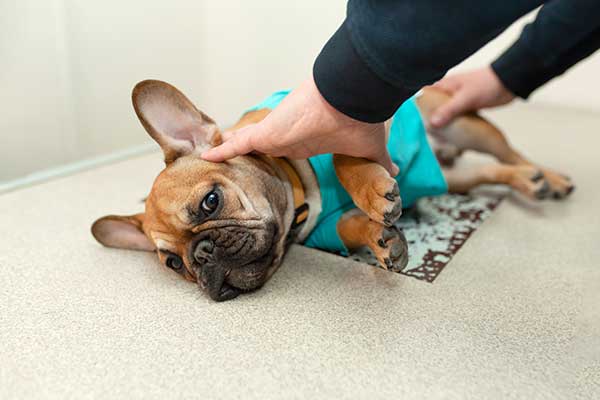 Diagnostics play a vital role in the health and care of your pet. After all, accurate diagnoses are the first step in effective treatment.
Diagnostics help our veterinarians pinpoint the underlying causes of symptoms, ensuring that treatment is tailored to your pet's specific condition.
Many diseases, especially in their early stages, may not exhibit obvious symptoms. Diagnostic tests can identify issues before they become severe, which can help lead to more successful outcomes. Testing can also play a role not only in diagnosing illnesses but also in monitoring chronic conditions and treatment progress over time.
Diagnostic Methods to Understand Your Pet's Health
Veterinary diagnostics encompass a wide range of tools and techniques, each serving a unique purpose. At Animal Care Center, we offer several diagnostic services in-house to help you get answers sooner and work with your veterinarian to plan the best course of care.
In-house Laboratory
Tests like urinalysis and blood work, including complete blood counts (CBC) and serum chemistry profiles, provide valuable insights into the pet's overall health, organ function, and the presence of infections or diseases.
Imaging
Digital Radiographs, or digital X-rays, and the ultrasound services offered at our Princeton location are invaluable for visualizing internal structures and identifying fractures, tumors, or abnormalities.
Referrals to Our Princeton Location
If needed, patients from our Pearisburg location can be referred to our Princeton location for additional diagnostics. Because we have two locations, we're able to expand our available state-of-the-art imaging and proactive care to all of our patients. If your pet requires one of these specialized diagnostic procedures, we can schedule them at our Princeton office without causing the sort of delay that can result from working with an external pet healthcare organization.
Endoscopy: This procedure involves inserting a flexible tube with a camera into the body to view internal structures like the digestive tract, respiratory passages, and bladder.
Video Otoscopy: Video otoscopy is a specialized diagnostic procedure used in veterinary medicine to examine and treat ear canals and structures. With this procedure, we can visualize the inside of the ear canal in real-time and guide any treatment.
Tonometry: We also offer tonometry to measure the intraocular pressure (IOP) within your pet's eye. This helps your veterinarian assess the health of the eye, particularly in diagnosing and monitoring conditions such as glaucoma.
Through a combination of advanced tools and the expertise of veterinary professionals, diagnostics not only help pet owners understand the health of their pets, but also provide the means to improve their care. The precision and accuracy of these methods allow us to help your pets live happy and healthier lives. For more information, reach out to us today.